CINDER BLACK: One of the most popular and cost effective Clarke pigments. Engineered to be easily dispersed in all mix designs and is much higher in tinting strength than any standard iron Oxide Black. Loadings from 0.01-5.0%. Can also be treated as a Part B type pigment at loadings from 0.50-1.50%.
MICRO BLACK 2311: Must be treated as a Part B type pigment. Used primarily when very dark greys to Black are required. Combine with maximum Cinder Black loadings and add Micro Black from 0.01-1.00% loadings. Must be Admixture Certified to use Micro Black 2311.
BLACK 451: A very intense Blue shade Black Iron Oxide. Can be used at loadings from 0.01-8.0%.
This shows how the tinting strength of the three Black pigments vary at the same loading of 0.11% with White Portland no pigment as reference. Black Iron Oxide 451 (on the left) should almost always be used to make medium shaded Greys and in oxide blends because Carbon Blacks are too strong in Tint. Plus the added cost of the Carbon Black cannot be justified.
The main use of Carbon Black is at the other extreme when darker Greys towards Black concrete and cement are desired because Black Iron Oxide is not strong enough in tint. Cinder Black (in the middle) is a unique high strength Black Pigment that can be used as both a Part A and Part B pigment. Micro Black 2311 (on the right) is a Part B Carbon Black performance particle and is used only when Maximum Black Cement and concrete are the color targets.
All three Black pigments easily meet the ASTM C979 UV specification for exterior projects.
In the diagram below, note the size relationship difference between Red Iron Oxide and various Carbon Black pigment particles.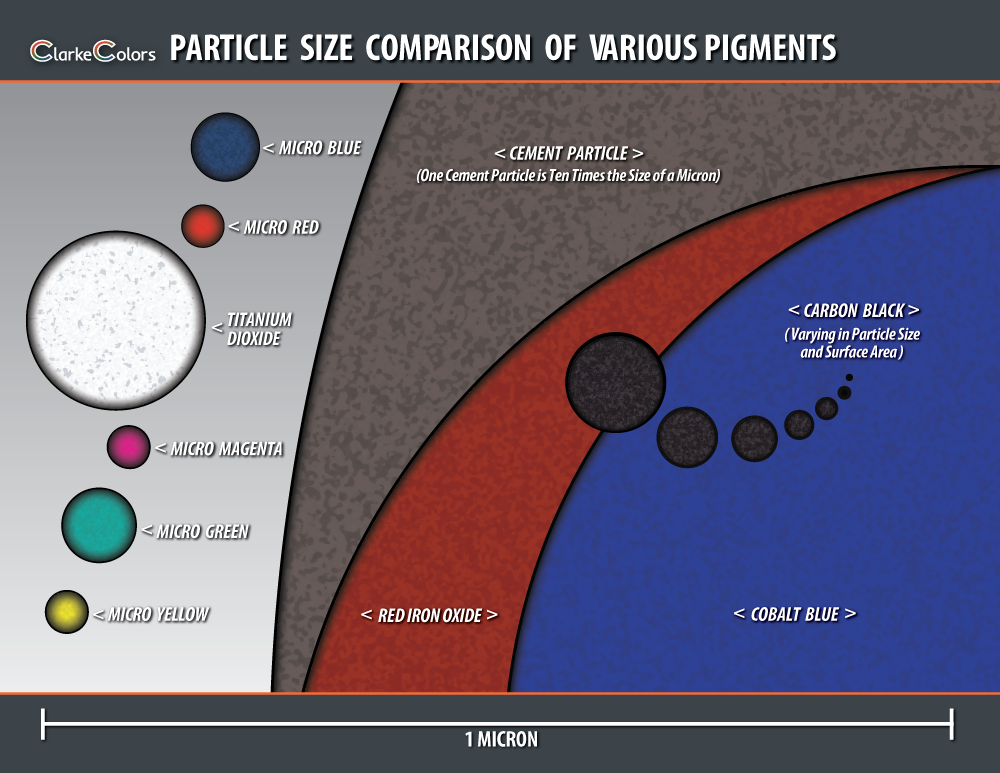 BROWN is a unique Brown Iron Oxide because it is also designed to shade other pigments as you can see below. Many different formulations can be made to shift color in many different directions. The NCS Color Fan can be used as a guide to define color targets and we can help with formulations.